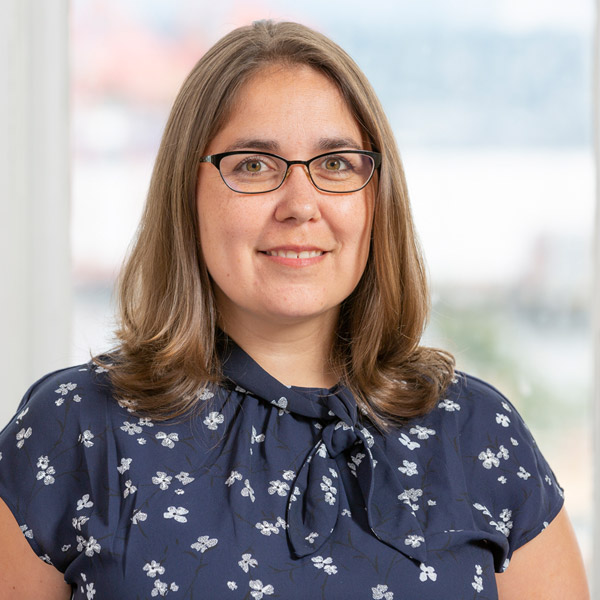 Erin C. Roth
Partner / Lawyer
Erin C. Roth* (pronouns: she/her) practices immigration, citizenship, and refugee law.
She completed a Bachelor of Arts in Political Science from the University of Alberta, followed by completing Law School at the University of Toronto. She was called to the Bar in Ontario in 2009 and in British Columbia in 2016. Erin appears regularly before the Federal Court, Immigration Division, Immigration Appeal Division (IAD), Refugee Protection Division (RPD), and has acted in cases before the Federal Court of Appeal and Supreme Court of Canada, and has attended Citizenship Hearings.
Erin started her practice with a focus in refugee law, focusing on RPD claims and the judicial review of refugee refusals. Her practice has expanded to complex inadmissibility cases and appeals, including clients facing allegations of inadmissibility for security, criminality, medical, residency, and misrepresentation. Erin's practice also includes representing individuals, families, and groups before the Federal Court addressing all types of refusals or delayed applications.
Erin is actively involved with the Immigration Section of the Canada Bar Association (CBA). She has just finished a 2-year term as the Co-Litigation Coordinator for the Immigration Section and a 5-year term representing the Section at the Federal Courts Bench + Bar Liaison Committee. She volunteers as immigration counsel through Access ProBono with ISSofBC, and is a regular presenter at conferences in British Columbia and nationally.
*a law corporation
Canada Bar Association, Immigration Section, Litigation Co-Coordinator, 2020-2022
Canada Bar Association, Immigration Representative to the Federal Courts Bench and Bar Liaison Committee, 2017-2022
Canada Bar Association, Member, 2010-Present
Access ProBono, ISSof BC Volunteer Immigration Counsel, 2019-Present
Canadian Refugee Lawyers Association, Member, 2018-2020
Legal Aid British Columbia, Immigration Detention Duty Counsel, 2016 – Present
UBC Law Students' Legal Advice Program, Supervising Lawyer, 2017 – 2018
Canada Bar Association, BC – Demystifying the Partnership Track, 2 November 2022
IMM Seminars – Responding to Procedural Fairness Letters, 28 October 2022
Canada Bar Association – Federal Court Litigation, 13 October 2022
ISS of BC – Family Class Sponsorships, 11 September 2022
CLE BC Immigration Issues in Depth – Group Litigation in the Immigration Context, 3 December 2021
ISSof BC – Family Class Sponsorships, 12 September 2021
Canada Bar Association National Immigration Conference – Federal Court Town Hall (moderator), 28 May 2021
Canadian Association of Professional Immigration Consultants, Ethical challenges in a new world – Dealing with the unknown, 19 November 2020
Canada Bar Association Alberta branch – CBSA & A44 reports, 20 October 2020
ISSof BC – Family Class Sponsorships, 9 August 2020
Canadian Association of Refugee Lawyers – Organized Criminality, 30 July 2020
Canada Bar Association, BC Provincial Immigration Conference – Organized Criminality, 7 February 2020
University of British Columbia – Medical Admissibility & Students, 4 November 2019
AMSSA webinar – Cannabis Act & Non-Citizens, 20 February 2019
Canadian Association of Professional Immigration Consultants – Residency – Counting the Days, January 2019
CLE BC Immigration Issues in Depth – Alternatives to Detention, 7 December 2018
Canada Bar Association National Immigration Conference – Refugee Protection Division – Preparing Witnesses to Testify, June 2018
Borderlines podcast – Episode 20 – An Overview of Canadian Medical Inadmissibility Law, 16 May 2018
Canada Bar Association, BC Provincial Immigration Conference – Medical Admissibility, 23 February 2018
AMSSA webinar – Refugee Claimants in Canada, 21 February 2018
American Bar Association, Commission on Immigration, Working Group on Unaccompanied Minor Immigrants, 3 February 2018
Canadian Association of Refugee Lawyers – Refugee Claims – Corroborating Evidence, 5 May 2017
SUCCESS – Protected Persons – Next Steps, 12 December 2016
Carswell webinar – Ten Must Know Cross Border Canadian Inadmissibility Issues, 22 October 2015
Canadian Association of Professional Immigration Consultants – Loss of PR status due to re-availment/Citizenship changes, 8 July 2015
Canadian Association of Professional Immigration Consultants – Reavailment: Refugees, Permanent Residents & Citizens, 12 September 2014
Canada Bar Association National Immigration Conference – Residency Appeals, May 2013
Immigration law presentations to various community groups and media outlets
Group Litigation before the Federal Court – What, why, who, when and how?, November 2021
Witness Preparation – Practice Tips (co-author), June 2018
Refugee Claims and Corroborative Evidence, October 2017
Residency Appeals – Tips & Best Practices, May 2013
Canadian Yearbook of International Law, John Peters Humphrey: Canadian Nationalist and World Government Advocate, 2008
Articles in the Immigration Law Reporter and ImmQuest