By Will Tao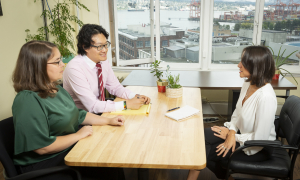 Five Immigration Tips for Coming Out of the Pandemic (Part 1)
As the first wave of COVID-19 comes to an end in Canada, and immigration processes start resuming, albeit at a slower pace, we should be prepared for a new normal.
I want to point out at the outset that it is practically impossible and impracticable to lump in everyone affected by COVID-19 and Canada immigration under one big umbrella. We know COVID-19 has had broad impacts on the immigrant and refugee community, from refugee claimants fleeing domestic violence after restrictive lockdown periods and being denied access to refugee claims to international students in Canada wondering how their studies can still be supported to foreign workers struggling to reconcile their employment and immigration status.
As the poet, writer, and lawyer M. NourbeSe Philip so appropriately tweeted recently: "If we were all in this together, we would not be in this together." COVID-19 has had a disproportionate impact on communities of colour, low-income migrants and refugees at the intersections of class, race, gender, and status. Unfortunately when it comes to remedies and reprieves, immigrants and refugees sadly and realistically will not be at the forefront of public consciousness, meaning communities will need to largely do their own advocacy and own learning, pressuring where possible key decision-makers and stakeholders to step up and step in at opportune times. I plan to write on this topic as well in a second post.
It is in this greater factual context that I present the following advocacy/learning tips. Whether you are a client, counsel, or organization assisting, I hope these five practical tips serve as a starting point for your own research and immigration planning. This piece is purposely high-level, each one of these five tips itself a whole topic to unpack. Collectively, these are also areas where I hope legal aid, non-profit, and Government resources can be centered.
1)      Updating Applications as An Essential Skill
With the processing of many temporary residence applications having been previously suspended, the new normal will be a resumption of processing avec expected hiccups. These include applications that have been stalled now going on several months as a result of unfulfilled biometric requests, medical requests, police certificates, and language tests. Many employees will be stepping back into jobs where they may have been temporarily laid off, permanently laid off, and now requiring new employer support to maintain eligibility for permanent residency.
Know that Immigration Officers as decision-makers must take into account new information that is before them and that updating applications after submission is a common process, and in many cases a required process. It is a common misunderstanding, unhelpfully perpetuated by online materials, that updates after an application is submitted are not accepted. These updates may instead be part of the new norm.
Forms are not easy – it is very foreseeable that misrepresentation and mistakes will both be more common and pursued with more frequency heading out of COVID. Remember to practice good document management, scanning a copy of everything you submit, and keeping a careful inventory of changes. Organizations could push forward access to justice mandates by offering free/affordable workshops on how to fill out Canadian immigration forms, dealing with issues such as navigating pdfs, validating and signing application forms, adding attachments, and paying application fees.
While the IRCC webform is a good tool, be also aware of visa office specific email addresses and other means (uploading to the IRCC portal) that may be acceptable. Read request letters carefully and also be careful to differentiate when what you are receiving is a procedural fairness letter.I wrote a piece on Procedural Fairness a few years back that should still be of some relevance.
With increased emphasis on virtual work, it is foreseeable we will see the fast-track of Artificial Intelligence in back-end immigration processing. As these systems become more accurate at both catching mistakes/predicting responses, it is important for immigration applications to exercise parallel due diligence.
2)      Getting Comfortable with Reconsideration Requests
The new normal in immigration will see refusals. Some may be attributable to inevitable change in factual circumstances – money once there, no longer there, family once stable and supportive, now at odds with your future plans. There will also be mistakes arising solely from visa office processing. Emails sent and not received, refusals based on questionable grounds.
Where there is an administrative mistake you believe was made by IRCC or perhaps a change in circumstances that gives rise to urgent humanitarian and compassionate grounds – reconsideration is
There are many good resources for reconsideration requests. Justice Phelan's decision in Lim v. Canada (Citizenship and Immigration), 2016 FC 2017 (CanLII) is a good starting point. As are IRCC's guidelines for reconsideration of negative H&C decisions (although applicable more broadly).
Reconsiderations are challenging in that they need to be timed carefully. There are circumstances where requesting a poorly timed or poorly prepared reconsideration can lead to a subsequent refusal with stronger grounds than the first.
My one suggestion would be to definitely seek legal advice following a refusal so that the important decision of whether to submit a reconsideration, put in a new application (if possible) or to file a judicial review.
3)      Knowing When to File Judicial Reviews and Stays of Removals
The judicial review process is one of the most important rights-protecting processes in immigration. I akin being able to file a judicial review as being able to locate the emergency exit in the event of a fire – a must for anyone doing this work.
What is going to be particularly challenging in the context of judicial reviews moving forward is the administrative delays in obtaining reasons for refusal. Visa offices abroad may still be closed or operating at limited capacity. Access to Information requests likely will continue to take beyond the statutory 30 days.
As the Court moves to virtual hearings and new amended procedures, I think it is important for clients and counsel to stay on top of what that looks like. I think the Federal Court should be lauded for their efforts during COVID-19 from sending comprehensive Orders to moving towards digitization, including piloting Zoom virtual hearings (I am attending my first next week).
As I have been preaching to my UBC Continuing Studies Certificate in Immigration Law, Policies, and Procedures Course, it is no longer competent practice for those who are unable to practice in Federal Court simply to turn a blind eye to the process. At minimum, knowing the statutory timelines for filing a judicial review (15 days from the receipt of a decision made inside Canada, 60 days from a decision made outside Canada). All those who practice immigration should still know the remedies for filing an extension of time request and as well for filing a motion to the Federal Court for a stay of removal. Partnering with competent counsel is a must in these ties. I suspect that these legal tools will become more relied upon as the consequences of COVID are felt in enforcement and inadmissibility consequences.
4)      Managing Expectations
One of the most frustrating things over the past few months has been navigating files where processing has stopped due to closure of overseas visa offices. These include decisions that were returned on consent upon successful judicial review and applications seemingly pending last final steps. For many permanent resident cards and citizenship applicants there have not been any updates to files. Do not expect this to change overnight.
Expectations will have to be adapted as a result of COVID-19. Couples will be separated for longer periods of time due to delayed processing and family plans may have to shift. Along with this will come appropriate fear, anger, frustration, and loss of hope. Know first that the system is not perfect, yet there are many good people trying to make things better. Second, know that there are good advocates ready to hold the Government's feet to fire, challenge, and advocate. Patience will, more so than ever, need to be a virtue in times like these.
Also expect refusals. Expect both reasonable and bad refusals. In this day and age, the information applicants have readily available or memorable may be just a portion of what Government and Institutions can share, and are readily sharing. Immigration risk compliance becomes an important part of every individual's application.
5)      Understanding Inadmissibility and Remedies for Inadmissibility
Inevitably, there will also be more issues with inadmissibility arising from COVID. Individuals will have overstayed, worked without authorization. Perhaps even the new COVID-19-based admissibility will come up in some circumstances.
Inadmissibility matters will need to be treated (and threaded) with caution. With rules constantly changing around who can work and study, when, and subject to whose authorization – there are bound to be erroneous messages. While I hope there will be enforcement leniency, there will surely be
Humanitarian and compassionate ground applications may offer remedy, but one should be careful in assessing how to incorporate COVID into their submissions. It is very possible that at the time of application assessment the temporal consequences of COVID may have subsided. Furthermore, the nature of a global pandemic make it often difficult to argue that the medical situation would not be proportionally the same in other cities in the world. Humanitarian and Compassionate grounds assessments (see: IRCC Guidelines as helpful resource as starting point) require a holistic assessment.
Temporary Resident Permits will also likely see a spike and continued processing delays. Applicants should know that in addition to the usual risk/benefit assessment, divergent Federal Court case law has created a strong 'compelling reasons' or 'compelling needs' tests (see e.g. Shabdeen v. Canada (Citizenship and Immigration) 2020 FC 492) . Particularly for international students and workers with significant family ties and obligations abroad and less ideal explanations for status issues, TRPs may become more difficult and the present hardship resulting from COVID-19 creating an unfortunate but deeply misimpression that 'we are all in this together.'
---
Will Tao, BA, JD, is a Canadian immigration and refugee lawyer at Edelmann & Co. He provides legal services in all areas of Canadian immigration and refugee law, with a focus on complex refusals, appeals and judicial reviews. Will also provides strategic advice and consulting to government, media, educational institutions, and businesses on immigration/refugee, decolonization and race/inclusion-related issues.